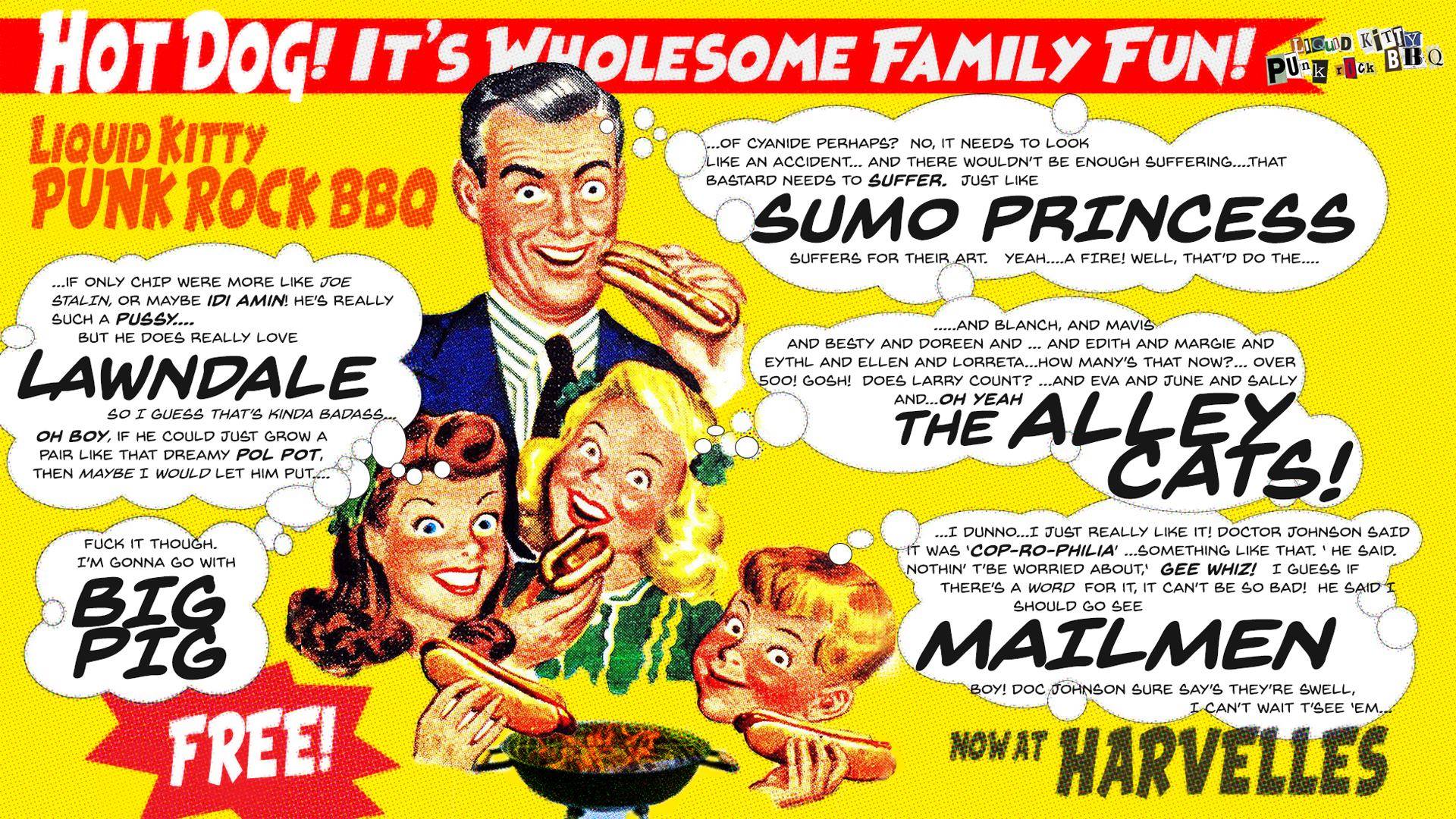 City
: Santa Monica, CA
Venue
: Harvelle's Nightclub Santa Monica
Address
: 1432 4th St
Time
: 1 PM - 6 PM

free
Friends, the Kitty may be gone, but the Liquid Kitty pUnk rOck BBQ is back! Two former Liquid Kitty employees, Damian and Jason are now part owners of Harvelle's in Santa Monica and are running the place. For some reason they're letting me do another BBQ over there. So get down there and don't disappoint!
Harvelle's is located at 1432 4th Street Santa Monica, CA 90401.
Sunday, May 6, 2018. 1pm – 6pm, doors at 12:30pm (that's in the afternoon, dumbs*%t, so get your lazy ass out of bed)
FREE ADMISSION! FIVE BANDS! CHEAP BOOZE! FREE HOT DOGS!
5:00pm: SUMO PRINCESS
Los Angeles based duo featuring vocalist/bassist Abby Travis (Go-Go's, Masters of Reality, Cher, Beck, Farflung,) and drummer Gene Trautmann (Queens of the Stone Age, Mark Lanegan Tour, Miracle Workers) "Sumo Princess has been described as a cross between Royal Blood, Devo, Television and Black Sabbath and Elettrodomestico has been described as a satanic electro-pop version of The Mommas and Poppas." – Bassplayer.com
http://sumoprincessband.com
4:00pm: THE ALLEY CATS
The Alley Cats are truly one of the best bands from the formative days of Los Angeles punk rock. Formed in the mid-1970s, their early singles on the Dangerhouse label are truly among the best punk rock records ever produced. Songwriter/guitarist/vocalist Randy Stodola also fronted the Zarkons and then reformed the Alley Cats several years ago. (Randy Stodola guitar/vocals; Apryl Cady, bass, vocals; Matt Laskey on drums )
https://www.facebook.com/AlleyCatsSOB
3:00pm: LAWNDALE
During their brief but prolific run in the mid 1980s, the all-instrumental LAWNDALE was a fixture on L.A.'s second wave punk scene. Playing a unique form of what has been described (possibly by a psychotic) as 'Surf-infused Psychedelic Melodic Acid-Prog', the band was fittingly dubbed "the Instrumental Gurus of the Church of the Electric Guitar" by the LA Weekly."…if you have any fondness for early '60s instrumentals … and care to see it done superbly plus a demented tinge of Pink Floyd influence, this is the band" – Stone Age News
(Jack Skelley, Steve Housden, Dave Childs, Philo Van Duyne)
http://thelawndalesound.com
https://www.facebook.com/Lawndale
2:00pm: BIG PIG
New generation desert rock from Dino Von Lalli (Fatso Jetson)- Guitar?/Noise!/Vox and Benny Macias- Tubs!/Vox
https://www.facebook.com/pigstakeflight
1:00pm: MAILMEN
Southbay punk rock from Ethan Parker, Albert Peacock, Chris Rennie and Jonas Kilker
https://www.facebook.com/SouthBayMailmen/
Drink specials: PBR 12 oz – $2 while they last
PBR 16 oz – $4, Low Life (PBR 16 oz & well shot) – $6
Rusty Beer – $2, "Liquid Kitty" (martini) w/ Poison Vodka – $10
Harvelle's (1432 4th St Santa Monica) is located only 1500 feet -a six minute walk- from the Expo line stop at 5th and Colorado. If you're driving, there are many public lots, including one two doors to the south of Harvelle's. Street parking is usually available on Arizona (a few blocks north of Harvelle's) between 4th and Lincoln. If all else fails, park east of Lincoln.
Sunday, May 6, 2018. 1pm – 6pm, doors at 12:30pm
Harvelle's 1432 4th Street Santa Monica, CA 90401 (21 and over)